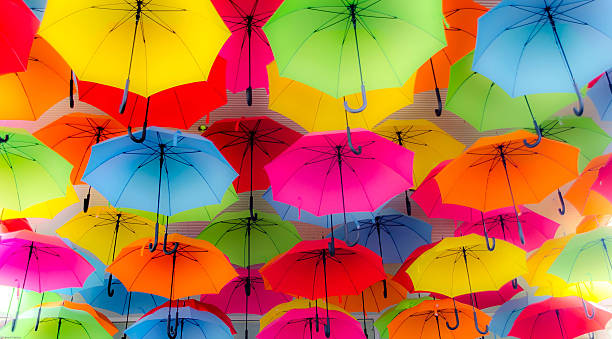 Umbrella - Umbrella texture
An umbrella or parasol is a folding canopy supported by wooden or metal ribs, which is usually mounted on a wooden, metal, or plastic pole. It is designed to protect a person against rain or sunlight. The term umbrella is traditionally used when protecting oneself from rain, with parasol used when protecting oneself from sunlight, though the terms continue to be used interchangeably. Often the difference is the material used for the canopy; some parasols are not waterproof. Umbrella canopies may be made of fabric or flexible plastic. There are also combinations of parasol and umbrella that are called en-tout-cas (french for 'in any case').
Umbrellas and parasols are primarily hand-held portable devices sized for personal use. The largest hand-portable umbrellas are golf umbrellas. Umbrellas can be divided into two categories: fully collapsible umbrellas, in which the metal pole supporting the canopy retracts, making the umbrella small enough to fit in a handbag; and non-collapsible umbrellas, in which the support pole cannot retract and only the canopy can be collapsed. Another distinction can be made between manually operated umbrellas and spring-loaded automatic umbrellas which spring open at the press of a button.
Hand-held umbrellas have some type of handle, either a wooden or plastic cylinder or a bent "crook" handle (like the handle of a cane). Umbrellas are available in a range of price and quality points, ranging from inexpensive, modest quality models sold at discount stores to expensive, finely made, designer-labeled models. Larger parasols capable of blocking the sun for several people are often used as fixed or semi-fixed devices, used with patio tables or other outdoor furniture, or as points of shade on a sunny beach. The collapsible/folding umbrella, the direct predecessor to the modern umbrella, originated in China. These Chinese umbrellas were internally supported with bendable, retractable, and extendable joints as well as sliding levers similar to those in use today.
Parasols are sometimes called sunshades. An umbrella may also be called a brolly (UK slang), parapluie (nineteenth century, French origin), rainshade, gamp (British, informal, dated), or bumbershoot (American slang).
National Umbrella Day is held on 10 February each year around the world.
The pocket (foldable) umbrella was invented in Uraiújfalu (Hungary) by the Balogh brothers, whose patent request was admitted in 1923 by the Royal Notary Public of Szombathely. Later on their patent was also approved in Austria, Germany, Belgium, France, Poland, Great Britain and the United States.
In 1928, Hans Haupt's pocket umbrellas appeared. In Vienna in 1928, Slawa Horowitz, a student studying sculpture at the Akademie der Bildenden Kunste Wien (Academy of Fine Arts), developed a prototype for an improved compact foldable umbrella for which she received a patent on 19 September 1929. The umbrella was called "Flirt" and manufactured by the Austrian company "Brüder Wüster" and their German associates "Kortenbach & Rauh". In Germany, the small foldable umbrellas were produced by the company "Knirps", which became a synonym in the German language for small foldable umbrellas in general. In 1969, Bradford E Phillips, the owner of Totes Incorporated of Loveland, Ohio, obtained a patent for his "working folding umbrella".
Umbrellas have also been fashioned into hats as early as 1880 and at least as recently as 1987.
Golf umbrellas, one of the largest sizes in common use, are typically around 62 inches (157 cm) across, but can range anywhere from 60 to 70 inches (150 to 180 cm).
Umbrellas are now a consumer product with a large global market. As of 2008, most umbrellas worldwide are made in China, mostly in the Guangdong, Fujian and Zhejiang provinces. The city of Shangyu alone had more than a thousand umbrella factories. In the US alone, about 33 million umbrellas, worth $348 million, are sold each year.
Umbrellas continue to be actively developed. In the US, so many umbrella-related patents are being filed that the U.S. Patent Office employs four full-time examiners to assess them. As of 2008, the office registered 3000 active patents on umbrella-related inventions. Nonetheless, Totes, the largest American umbrella producer, has stopped accepting unsolicited proposals. Its director of umbrella development was reported as saying that while umbrellas are so ordinary that everyone thinks about them, "it's difficult to come up with an umbrella idea that hasn't already been done."
While the predominate canopy shape of an umbrella is round, canopy shapes have been streamlined to improve aerodynamic response to wind. Examples include the stealth-shaped canopy of Rizotti (1996), scoop-shaped canopy of Lisciandro (2004), and teardrop-shaped canopies of Hollinger (2004)
In 2005 Gerwin Hoogendoorn, a Dutch industrial design student of the Delft University of Technology in the Netherlands, invented an aerodynamically streamlined storm umbrella (with a similar shape as a stealth plane) which can withstand wind force 10 (winds of up to 100 km/h or 70 mp/h) and won't turn inside-out like a regular umbrella as well as being equipped with so-called 'eyesavers' which protect others from being accidentally wounded by the tips. Hoogendoorn's storm umbrella was nominated for and won several design awards and was featured on Good Morning America. The umbrella is sold in Europe as the Senz umbrella and is sold under license by Totes in the United States.
Alan Kaufman's "Nubrella" and Greg Brebner's "Blunt" are other contemporary designs.
In this clipart you can download free PNG images: Umbrella texture background images
More texture images of Umbrella
Umbrella

Shutterstock

Set with striped beach umbrellas on white background. Banner design

Umbrella

Shutterstock

Set of different Umbrellas in various positions. Open and folded umbrellas. Muted colors. Hand drawn colored Vector illustration. Cartoon style. Design templates. All elements are isolated

Umbrella

Shutterstock

Open, closed and folded umbrellas set. Rain protection parasols for rainy weather. Protecting accessories with handles of different design, type. Flat vector illustrations isolated on white background

Umbrella

Shutterstock

Yellow isolated and realistic umbrella icon set seven different locations of the yellow umbrella vector illustration

Umbrella

Format:

JPEG Image

Resolution: 2508x1672

Size: 1361 kb

Umbrella

Format:

JPEG Image

Resolution: 1300x828

Size: 136 kb

Umbrella

Format:

JPEG Image

Resolution: 480x640

Size: 103 kb

Umbrella

Format:

JPEG Image

Resolution: 700x526

Size: 278 kb

Umbrella

Format:

JPEG Image

Resolution: 1920x1200

Size: 213 kb

Umbrella

Format:

JPEG Image

Resolution: 480x360

Size: 28 kb

Umbrella

Format:

JPEG Image

Resolution: 612x339

Size: 57 kb

Umbrella

Format:

JPEG Image

Resolution: 1080x1920

Size: 1088 kb