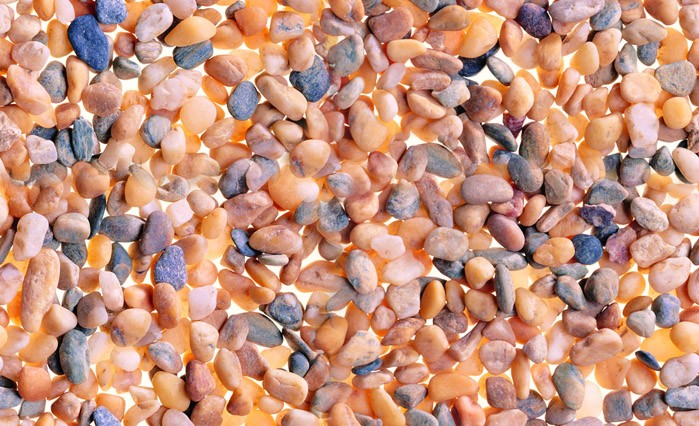 Pebble - Pebble texture
A pebble is a clast of rock with a particle size of 4–64 mm (0.16–2.52 in) based on the Udden-Wentworth scale of sedimentology. Pebbles are generally considered larger than granules (2–4 mm (0.079–0.157 in) in diameter) and smaller than cobbles (64–256 mm (2.5–10.1 in) in diameter). A rock made predominantly of pebbles is termed a conglomerate. Pebble tools are among the earliest known man-made artifacts, dating from the Palaeolithic period of human history.
A beach composed chiefly of surface pebbles is commonly termed a shingle beach. This type of beach has armoring characteristics with respect to wave erosion, as well as ecological niches that provide habitat for animals and plants.
Inshore banks of shingle (large quantities of pebbles) exist in some locations, such as the entrance to the River Ore, England, where the moving banks of shingle give notable navigational challenges.
Pebbles come in various colors and textures and can have streaks, known as veins, of quartz or other minerals. Pebbles are mostly smooth but, dependent on how frequently they come in contact with the sea, they can have marks of contact with other rocks or other pebbles. Pebbles left above the high water mark may have growths of organisms such as lichen on them, signifying the lack of contact with seawater.
Pebbles on Earth exist in two types of locations – on the beaches of various oceans and seas, and inland where ancient seas used to cover the land. Then, when the seas retreated, the rocks became landlocked. Here, they entered lakes and ponds, and form in rivers, travelling into estuaries where the smoothing continues in the sea.
Beach pebbles and river pebbles (also known as river rock) are distinct in their geological formation and appearance.
Pebble texture background images free download
More texture images of Pebble
Pebble

Shutterstock

Paving seamless pattern vector illustration. Cute summer repeated background. Pebble, shingle beaches template wallpaper for interior designs, beauty, wrapping paper. Doodle sea stones backdrop

Pebble

Shutterstock

Smooth round pebbles texture background. Pebble sea beach close-up, dark wet pebble and gray dry pebble. High quality photo

Pebble

Shutterstock

Smooth round pebbles texture background. Pebble sea beach close-up, dark wet pebble and gray dry pebble

Pebble

Shutterstock

Abstract smooth round pebbles sea texture background

Pebble

Format:

JPEG Image

Resolution: 1332x850

Size: 374 kb

Pebble

Format:

JPEG Image

Resolution: 1920x1080

Size: 749 kb

Pebble

Format:

JPEG Image

Resolution: 2000x1333

Size: 482 kb

Pebble

Format:

JPEG Image

Resolution: 680x460

Size: 60 kb

Pebble

Format:

JPEG Image

Resolution: 680x460

Size: 62 kb

Pebble

Format:

JPEG Image

Resolution: 500x500

Size: 96 kb

Pebble

Format:

JPEG Image

Resolution: 1920x1080

Size: 784 kb

Pebble

Format:

JPEG Image

Resolution: 512x512

Size: 140 kb